Edubirdie Review 2019: Why I Cannot Recommend This Company
I am writing today to help a student out of to avoid falling to the charms of these cons in the industry. Edubirdie.com should be avoided like the plague if you wish to receive value and appreciation for your money. Read each and every section that below to understand why I am saying this.

About Edubirdie: Worst Essay Writing Company in the Market
Edubirdie.com is one of the many online essay writing websites meant to help students score guaranteed passing grades. Online essay writing companies are agreeably one of the best concepts technology has offered students especially in the 21st century. There is a large number of students who could simply not cope with the pressure of academic life, more so after graduating from high school to either college or university. However, the services offered by such companies seemed god-sent, as they lightened the extra load placed on students by their course programs. Edubirdie is a company that was formed with claims of providing this help. However, after checking the services they offer, I noticed that the company has a very limited catalog of academic papers on offer. However, when I decided to attempt placing an order, I found more choices in the not-so-apparent drop-down menu. They included:
Application essays
Research papers
Book reviews
Case studies
Business plans
Coursework
Lab reports
Dissertations
However, even after seeing this wider list, I found that there are no additional services on the website. For instance, some companies have a personal statement, proofreading, resume writing and editing services. What immediately came to mind was that the writers at Edubirdie are not up to the task. A first-time visitor to the website shortly notices the appealing birdie and how distinctive and stylish it is, although this is after spending considerable time finding the site because it is extremely vague. However, the appeal soon becomes irrelevant because immediately next to the birdie is a very interesting if not ironical statement that shouts at you to place a free order. Only desperate students and customers who refuse to practice due diligence will not read this as a red flag. Edubirdie, really, who would invest in building a website and hiring "professional" writers only to offer free services? Why would you still have that lie alive on your website yet you know you have never delivered a single free paper, not even a sample? Students, if you are daring enough, click on the "place your free order now" button and see what comes up next. Please be warned that this company charges exorbitantly for the poor quality of products they deliver and this review will show you that in brutal honesty. To put this into context, ScamFighter rated Edubirdie at 2.93/5 in the latest poll of the fourth quarter of 2017.
Any student will identify with the situation in which they simply cannot keep up with all the deadlines of the academic world and pressures of social life. That is precisely when you need a company that can take such loads away from you. However, Edubirdie is a company that takes advantage of this situation to steal from students. For one, the support agents who are supposed to make your life easier on the website are exceedingly rude. At some point, I even thought they were automated answering machines because they kept asking if I had paid for the services when we communicated via email. For any student who values the quality of service, this attitude directly tells you to go to the competitors. Of course, I did not approach the company with exaggerated hopes, but I was double disappointed for not only not receiving what I had paid for but also the very unsatisfactory results. The eye-catching taglines of the website read "customer satisfaction guaranteed," "get quick results" and "unlimited support 24/7". For what I was charged, I at least expected the bare minimum passing grade, not the "D" I scored. In all the time the paper was allocated, I could personally have completed more than half and with a much better grade.
For credibility purposes, any business that markets its services should at least deliver some of the promises. The marketing team at edubirdie.com is excellent, but there is a whole world of disconnect between the marketers and the writers. The writers make the marketers appear as downright liars because the papers they craft are nothing near what they claim to have the expertise to. Have you ever tried dealing with an invisible agent who has no phone number? Then that is the frustration that awaits you if you choose to work with Edubirdie writers. The website claims the company has platinum, premium, and standard writers, with an option of negotiating for a Ph.D. writer. This is pure falsehood because even the first writer I was assigned to could not match my level of written English when we chatted. A writer who genuinely has such a level of education would not jeopardize his reputation, let alone that of the company, on the quality of papers I have seen from this company. Although I once managed to get through to a writer who claimed to be a Ph.D. holder, this option did not give me the opportunity to stay in constant touch with him. This is because he immediately became unavailable on the edubirdie.com website the moment he allocated himself to me. I next heard from him exactly 23 minutes to my deadline!
Edubirdie.com are only advertising experts who mention the whole range from the most irrelevant to most relevant topics just to appear as an all-rounded company. The reality is that they are not knowledgeable in any of the fields they mention. While they claim to be in existence to make your school life bearable, they excel at exactly the opposite. Their flashy and deceitful marketing earns them plenty of orders, but they redistribute papers they had written and sold earlier or openly plagiarize your orders to beat deadlines. Beating deadlines is one thing, and beating such deadlines with acceptable work is another thing. Neither the writers nor editorial teams at Edubirdie seem to have the slightest idea of this. It is very easy even for students struggling to be on schedule and score the required grades to realize that either the writers do not have the time and commitment to producing original papers or simply lack the needed skills. Still, on deadlines, the company uses punctuality as one of its strongest points. On the one hand, this may be true technically. On the other hand, it really gets down to desperate attempts by the customer to ask for the paper with less than an hour left to deadline. That is not why I paid edubirdie.com $32 to complete a two-page essay with a whole 10-day period.
Submitting my papers on time is one of those situations where "almost does not count." Every student needs to go through their work before handing them to the instructors to be familiar with the content. Can you imagine the shock when your instructor summons you to go through your paper with them when he discovers that you are also learning the content for the very first time right there with him? That is precisely what the company put me through. An essay writing company worth its claim should offer students better support than they get from their instructors and faculty members. The writers at Edubirdie are part of the problem. I must admit that I sought the services of an online company because my instructors and faculty were not exactly approachable. With the number of students that they had to attend and the projects to supervise, these staff members did not give me the kind of attention I needed in school, and I could not blame them for that. The next obvious solution was to pay a "professional" for that much-needed attention. The company could simply not deliver it. Students, it is not up to you to keep chasing after someone you have not only trusted with your grades but also paid for it. On the contrary, it is up to them to live up to expectation and "pester" you with their attention.
It was only due to lack of proper information and thorough research that I ever ended up using edubirdie.com to get my assignments done. I paid dearly for this mistake because the company was not formed with the interests of students in mind. The entire writing and editorial team comprises of business-oriented people who make the company very unsafe for students to place orders. I do not have any problem with the profit mentality that underpins the existence of such companies, but it is also imperative that the employees at Edubirdie learn business ethics that require them to give customers what they specify. Instead, this is a team that uses illegal means to acquire essays from elsewhere and resells them to unsuspecting students. I was once a desperate student, and desperation made me vulnerable. Do not fall into the same trap: edubirdie.com is a trap waiting for desperate students who become vulnerable customers.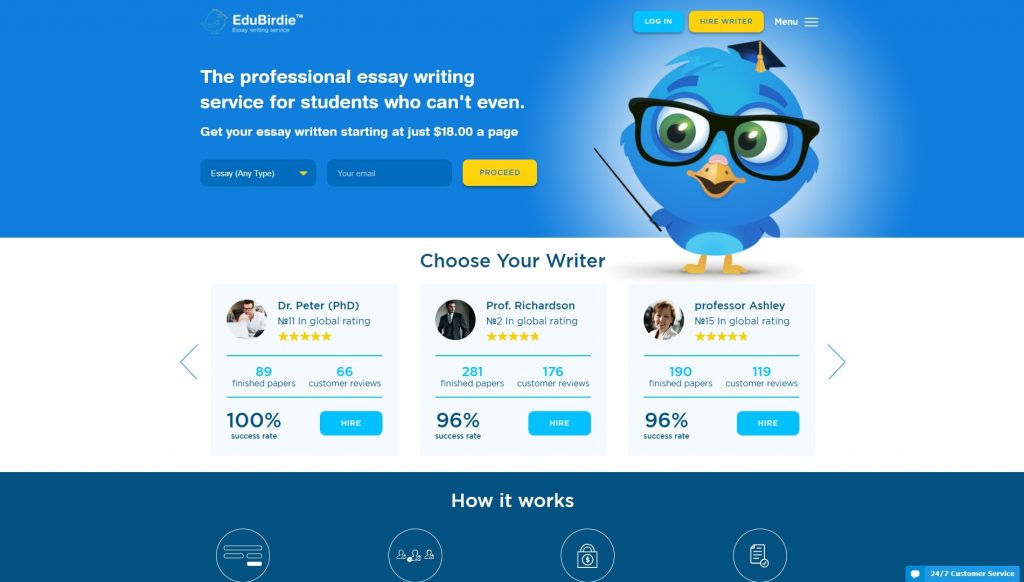 Good Website Design, but only For Attracting People to Steal Their Money
There is no doubt that edubirdie.com is a very trendy website. With regards to designing the entire web page and how it captures and holds the attention of visitors, the founders of the company indeed invested what they ought to have. I must say that my ability to point out a user-friendly and functional website is above average because I have been a heavy user of the internet since high school. To that end, I cannot deny the company the credit it deserves for a "catchy" website. The "log in," "hire writer" and "menu" buttons are visibly placed at the top right-hand corner, where I would logically expect them to be. Directly below the "place your order for free now" button is the button that lets you select the type of work you want and the provision where you enter your email address. All these are strategically positioned to surround the birdie that seems to be beckoning you. However, that is where the positive aspects of the website end.
Appearance on this website does not translate into easy navigation. Why would Edubirdie hide the button that shows the full range of services they offer and leave customers only with an abstract list? The simple answer is that those services are not there. If I need help with my dissertation, I need a company that communicates the availability of that service explicitly instead of forcing me to search for it. Worse still, even after thinking that you have located what you were looking for, it is a rude surprise to find that it is not what you thought. The search for what you want should be the easiest part of navigating through and using a website; that is not the case with edubirdie.com. With this website, you get to do more work as the customer than what the writers do. If this sounds like an exaggeration, try getting in touch with a customer support agent. Many other websites have this at the click of a single button. Ironically, this website has a How It Works section as if to mock visitors that the designers knew it would be needed. In spite of its name, this section does not work. It will only take you in circles to add up to your frustrations. Once I sign in or log into a website, I expect seamless and almost self-directing services.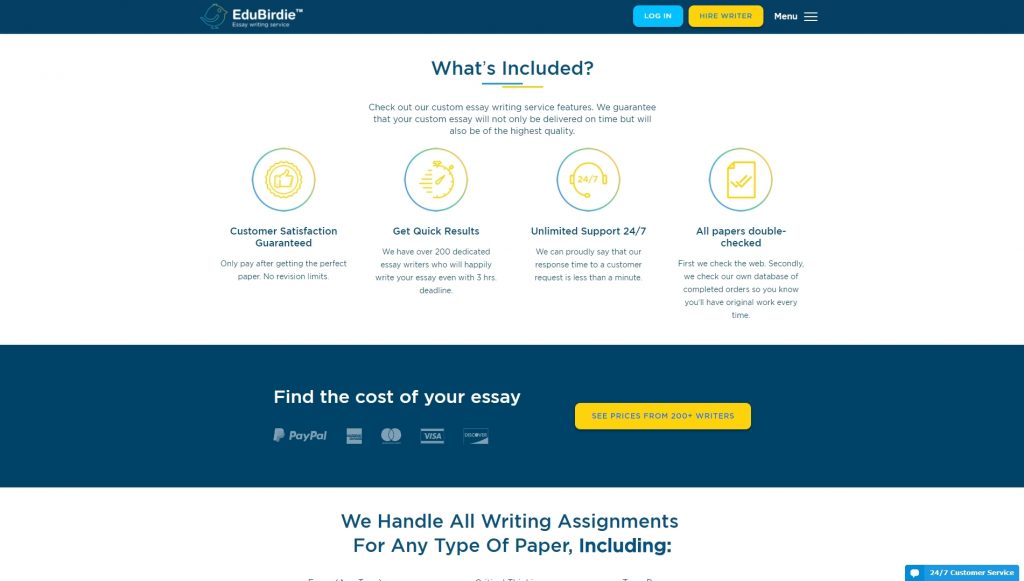 The Process of Placing an Order Does Not Allow You to Communicate with Writers
Edubirdie.com only has three very simple steps in the ordering process. To initiate the process, the customer only needs to click on the "hire writer" button, and the order form springs up. However, it is interesting that even before you begin typing your specifications, the website offers you several writers from whom you are requested to select the one most suited to your requirements. This may seem like an effort leading to a custom paper, but, wait a minute. Am I not supposed to finish typing out my specifications before they even imagine that I want to choose a preferred writer? Does this company not trust their writers to gauge themselves against my specifications before I decide the one assigned to me is not appropriate? Furthermore, most other websites will have predefined topics to choose from that are reflective of what the academic world entails as opposed to customers having to type out even simple aspects as topics. The truth is that rushing to ask me to choose a writer is an early sign that I will only have myself to blame for the quality of paper I will eventually receive. If edubirdie.com were genuine, they would give me the most appropriate writer themselves and be accountable for the paper they deliver.
I noticed that immediately after choosing a writer or being assigned a computer-generated choice, the prices that I received for all my differently placed orders were the same. It must come as a warning sign that regardless of whether I needed the paper the same day or the following day, whether it was a Math, English or Biology paper, the price was always $32 per page. Edubirdie writers do not seem to understand that different subjects have different implications with regards to the time it requires to complete each and the approach they should assume towards researching and compiling a paper. The pricing advertisements they post on the website are not applicable and only seem to be there for purposes of tempting the customers to rush towards placing an order. Still, this differs sharply with the fact that they urge you to place a free order. To me, this is aspect robs the company of considerable credit and can only mean two things: either edubirdie.com profiles its customers and has fixed rates for each or no one reviews order details before a price is quoted.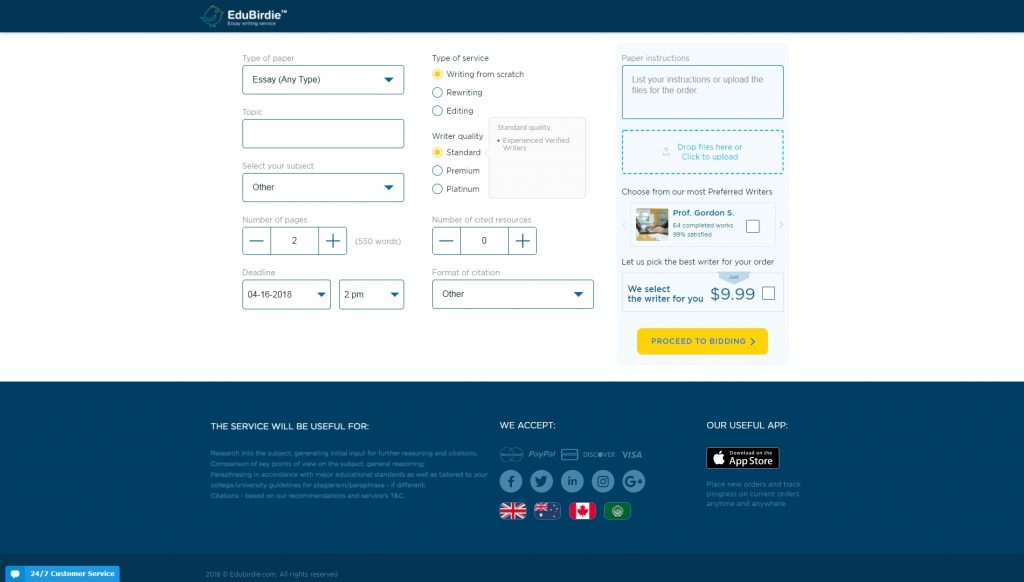 Warning! Writers Are Not Native English Speakers: They Hire Non-Native Writers from Russia
I am a student in the U.S., and my institution strictly requires us to use U.S. English in all our papers. This means that any writer doing my papers must be proficient in both spoken and written U.S. English according to the specifications I gave when ordering. However, the company does not mention anywhere that they have native English speakers working as writers. From the written language I saw in their chats, I could immediately tell that those were not just grammar errors; I was chatting with a non native English speaker. From the investigations that I conducted with some of my fellow students, we established that all Edubirdie writers are Russian and are not subjected to proficiency tests before they are hired. This directly explains the quality of papers I received, even if not in terms of the relevance of the content, at least with regards to grammar.
I am a native English speaker, and my instructors know the kind of English to expect in my papers. Any student who has used online essay writing services knows there is the choice of language, either U.S or U.K. English. However, the fact that edubirdie.com does not have writers proficient in any of these and they do not make it known should tell you the kind of company they are. I must point out that I have nothing against Russian writers, but I must also make it known that they have contributed largely towards the most expensive, yet useless experiences I have had with this company. For example, I was at pains to explain myself when my instructor asked me whether I needed special help with language, yet he saw my entry tests and knows what I am capable of. This robbed me of valuable marks that I could easily have earned on my own, for free.

Making Changes into A Completed Work Is Impossible Because of Poorly Written Work
Making changes to a completed work should be one of the benefits edubirdie.com extends to its loyal customers at no extra cost. In fact, these changes should not be viewed from the same perspective as revisions. Revisions refer to mistakes, missed points and substandard papers. Changes, on the other hand, are mostly not the student's or writer's making but unforeseen additional or reduced instructions by instructors and faculty. Edubirdie writers do not recognize this and, worse, will not respond conclusively but keep asking for more time. Lack of that time is precisely why I sought their services in the first place!

Papers are Not Plagiarism Free! They Copy Work from Non-Academic Sites
The truth is that the papers delivered by edubirdie.com are not plagiarism free. Using my own example, the worst experience I had was an English paper with 57% similarity index, and this is the paper that was sent to me with only 23 minutes to spare. I do not need to give the details of the other cases of plagiarism, but the lowest similarity index I have ever got from them is 4%. For the record, I have never got 0%. The writers at Edubirdie claim that their papers are checked not only for plagiarism but also quality by their editorial team. Sadly, this point does not prove itself. I get free plagiarism reports on all my orders; however, once bitten, twice shy. I no longer look at the reports, and I have to pass the paper through another plagiarism checker just to get a second opinion. Most of the time, I am glad I trust my instincts because I get a completely different report. Remember, this plagiarism checking service is said to be free but be sure that the price you pay for each paper factors it in. That is not being honest given that a different checker will tell you something else. Edubirdie.com should know that no self-respecting company should allow its employees to subject customers to such experiences. If we pay for services, kindly give us what we rightfully deserve. We are not getting that in the least bit.

Poor Communication and Customer Support: Rude Support and Writers
Customer support agents are never available, which leaves one wondering whether edubirdie.com actually have any. Throughout my transactions with the company, I mostly communicated with writers. The added inability to find a phone number to seek advice made this the worst essay writing company I have ever dealt with. While I could contact the company's customer support via free live chat 24/7, the lack of professionalism I was met with did not compensate the frustration and time wasted in the effort to get someone on the other end. It is common sense that a company with the knowledge that their support staff is not easily accessible attempts to reduce their customers' frustrations by being courteous once communication is established. However, I am sure no customer spends time only to end up with the kind of experience I underwent at the hands of the employees of Edubirdie. I do not demand or expect five-star treatment, but at least make my short interaction with you worthwhile.
Anyone seeking the assistance of customer support agents expects a human "touch" from whoever they interact with. Edubirdie seems to have robots programmed to ask whether payment has been made. I do not deny that the company needs to make money not only for survival but, most importantly, to be able to hire real professionals to support customers. If you were to conduct a qualitative analysis on the responses customer receive from the agents via chat, the term "payment" would form a theme on its own. I would advise any potential customer seeking writing services to search for a company that shows genuine interest and commitment to their customers. Communication with them should be about why you got in touch with them in the first place; payment will follow automatically from satisfied customers.

Fake Testimonials from Fake Customers
No doubt the company intended to create a positive reputation. However, their greatest downfall came when they failed to address the complaints raised by customers. I asked a customer support agent, whose name I will deliberately disclose as Kimson so that the company can look into the matter, what plagiarism checker they use and whether it saves our completed orders. He immediately blocked me from the chat without responding. Such incidents are the reason Edubirdie still continues getting negative reviews from users and bloggers. A prominent comment on their Trustpilot profile is a complaint by students who earned "very expensive bad grades."  Further, it is the reason why edubirdie.com has no fans on Reddit, as evidenced by all the negative reviews they have there. The credibility of my complaints could be doubted if I was the only one with such negative experiences with the company, but all these testimonials show that not all customers can be wrong. There is definitely a problem at the company that has not been addressed. Although I found that the writers are Russian, a review by one customer says she dealt with an Indian lady who could not distinguish between "v" and "w" in their chat. Rate it yourself!

Credit Card Information is Not Kept Safe, Place They Leave Traces of the Company on Your Papers
The second item edubirdie.com has placed on the list of the benefits of their writing service is confidentiality guarantee. Others include non-stop customer support and topnotch quality papers. Do not be deceived, none of these happens at the company. The only reason I asked Kimson about saving papers in their plagiarism checker database was that I found most papers are not original and can, in fact, be traced back to Edubirdie. This also means that my confidentiality is in no way guaranteed and my school can establish not only the company that did my paper but even the individual writer. Every student knows the consequences of this, and if edubirdie.com cannot handle your confidentiality with the seriousness it needs, they are simply bringing university penalties your way. Never forget that they collect personal and very sensitive information, sometimes including the name of your university, when you place your order for purposes of facilitating payment.
However, none of the information you submit is confidential once Edubirdie receives it. I found that other customers can not only see the orders I make but can also know my university. This is a breach of the confidentiality, privacy and respect you as a customer entrust to the company. If other customers can see your interactions, even your university will eventually come across them. That is not what we pay so dearly for. These guys claim to be researchers; they should research on what "confidentiality guarantee" means before they list it as one of the benefits of working with them. It seems like the only guaranteed thing is a penalty from your university. Further, with such careless handling of personal details, your debit/credit card will very soon find its way to online payment fraudsters.

Worst Discount Policies in the Market: They End Up Charging You More for Discounts
The working system at Edubirdie cannot support any discount because prices are determined basing on the writers who bid on your orders. Once you give details of your paper, they make bids, and you get to select your writer. On its own, this system rubbishes the free order falsehood in all senses. Then, how do you even expect a discount from them? You get to pay every single coin quoted by the bidder you select. Further, you are not protected because the user end of the website does not have a price list or price calculator like others I know of.
I know about discounts after dealing with several other online essay writing companies. It is only edubirdie.com that I found has neither a discount nor promotion code for new customers. This website is not for potential customers looking for deals on their essays because it does not have such deals. There is absolutely no incentive for you to make a purchase decision here and not look elsewhere. Let us not pretend; discounts make students' live tick. Why would I want to spend a fortune on one company yet I could save several dollars on the one right next door?

They Have No Bonus Policy, Let Alone a Bonus System
I went through the entire edubirdie.com website searching for the term "bonus." It does not exist. No promotion, no discount, no bonus; you just pay for anything and everything you need from this website. This is not to mention the almost uniform prices for any kind of work you ask for. The best Edubirdie offers you as a customer in terms of reduced prices, and in a way bonus, is by allowing you to pick from among the writers who place bids for your offer. Somehow, this makes you feel like you are at a public auction and not an academic website.
Before you decide to choose the lowest bidder, please remember that you are choosing the cheapest, and probably the worst, option for your grades. True, most of the bids will be too high for your budget as a student, but that is not the major concern at Edubirdie, they simply need to make their money. A professional writing company should have a loyalty program in place. Now that I have done my own review let me ask a question: what would you feel about a company that does not care about building loyalty among its customers?

Scams Through Payment – I was Double Billed
There is adequate flexibility regarding the payment options edubirdie.com offers customers because they accept PayPal, MasterCard, Visa, Amex and Discover. However, what I am yet to understand is what happens once your card is charged. For one, you do not pay Edubirdie; you pay the writer you deal with. The company claims on its FAQ page that this saves the client from having to pay affiliates, hence exerting less pressure on the student's budget. However, I became suspicious when my PayPal account was charged more than once for the same work. My fears were confirmed, and I actually confirmed theft of my data when upon raising complaints, the same work was charged four more times on my account.
The company should understand that offering flexibility in payment methods is about providing an additional layer of security to its customers. However, this flexibility at the company seems to mean creating an avenue to access your card data and, ultimately, your money without working for it. Do not be fooled that by authorizing payment to the writer you will be avoiding unnecessary links in the chain; you will actually be handing over your card details directly to persons with bad intentions.

Will Not Refund Your Money No Matter the Number of Time You Beg
Edubirdie.com is not only an unfair company with regards to prices but also flatly refuses to give refunds even for obvious mistakes of their writers. I once noticed numerous punctuation and grammar mistakes simply by reading the paper even without passing it through Turnitin. When I requested for revision, I received exactly the same paper after 12 hours – without a single change. I decided to be civil and politely pointed out the mistakes again and requested for the revision the second time. The immediate answer I got was that I needed to pay, per page, for the revision. Refusing to pay for another person's mistakes, I decided to correct the paper on my own and withdrew the revision request and asked for a refund. That matter has never been spoken about again by the writer I was dealing with, and of course, I have never received any refund!
Edubirdie services are charged on a prepaid basis, so customers pay upfront. With prices starting at $18 per page, there is room for negotiating with a writer via chat and can actually be reduced to $16. However, this is only designed to create the illusion that customers can, in fact, talk to their writers whenever the need arises. In reality, once that price is paid, no refund will be forthcoming regardless of the quality of paper you get. The only guarantee you seem to get from this company is silent, and it assures you that money that goes to Edubirdie is gone forever. Honestly, if I cannot get a refund of my money, why can I not at least get value for it? With this company, you miss out on both. The company does not know what students go through, both academically and financially!

Do Not Expect High-Quality Papers Because the Writers Are Academic Fraudsters
Edubirdie.com makes justice to the notion that you have to be in it to know it. I have been there and know exactly what they are capable of delivering not only at what cost but also with what consequences. There is no better definition and living example of academic fraud than Edubirdie. You need not try placing your order only to confirm that you will be swindled out of your money and still receive the very poor quality of work. On the FAQ page of this website, they claim that they are in the market to serve students up to the Ph.D. level handle wild schedules. The moment you place your order to check their quality, you will find out why they are the reason your schedule is wild! Edubirdie has lived up to all the accusations leveled against them of being academic frauds. Not only does your money go to waste but your academics will suffer greatly because they add no value. If you cannot get a better online essay writing service, you will be better off struggling with your assignments and term work on your own. Do not risk placing any order with edubirdie.com!

Avoid Getting Penalized in Your University and Choose Other Writing Companies
Edubirdie.com simply does not deliver on any of its promises. Ask yourself, why should we even call them promises yet we pay for them? Quality is a responsibility and obligation that must be delivered by someone you pay for it. On the contrary, many customers have been penalized by their universities simply because of the poor quality of work Edubirdie does for them. There is no professional team at this company that understands you need a 100% original paper that must also be delivered on time. A writer who claims to be a Ph.D. holder will surely understand what quality and punctuality mean to you and your grades. So, if Edubirdie cannot deliver, choose another writing service instead of getting a penalty from your university.
Orders taken by edubirdie.com will not rise to the research, analysis and writing standards you expect to earn your passing grades. You will ask the correct questions but receive wrong answers that do not make strong arguments or give relevant examples. Therefore, students who need essays that look professional and do not raise questions from their instructors about their progress in academics will not choose Edubirdie. All aspects and scores of their reviews show this. From the lack of friendly pricing to not having professional writers and lack of confidentiality to poor quality, plagiarized essays, you have every reason not to opt for edubirdie.com. Make the right decision and choose another partner to work with for your academic success!